MM-5 Coffee Cup Engine Kit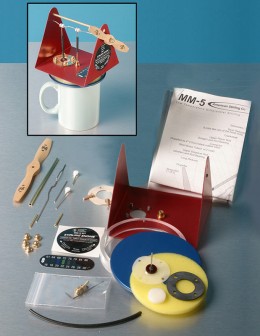 This kit includes all the parts to build our original transparent engine that sells ready to run. In stock.
$99.00
Ready to assemble. You only need to purchase superglue and silicone sealant. You will also need a few common hand tools to assemble your engine. It's a pleasant two or three evening kit and a fun way to learn about Stirling engines. Click here for a video clip. If you have broadband you may enjoy a Flash animation of this engine.
You may also want to buy a Spare Diaphragm. This is the only wear part in the engine.
The United States Naval Academy has their mechanical engineering students build one of our kits.
If you want a very easy to build kit, we recommend this electric motor kit.