MM-7 Stirling Engine
$579.00
Out of stock
SKU

MM-7

Categories

This Stirling engine is a beautiful conversation piece for your home or office, or a great physics or chemistry demo for your classroom or lab. It will run indefinitely on your warm hands in a 72°F (23°C) room, or on a computer monitor, TV, DVD player, VCR, stereo amplifier/receiver or fax machine. It will even run on bright sunlight shining through your window.
While the MM-7 operates based on well understood physics, it may be the closest thing to magic and a perpetual motion machine you can buy anywhere at any price. It only requires that the base plate be 7.2°F (4°C) warmer or cooler than the top plate for it to run continuously. Amaze your friends, your family, your co-workers, or just yourself!
The MM-7 is a great unique present for that special friend, relative, business associate, or client who already has all the usual worldly possessions. You can be confident that he or she will not have an MM-7.
New Laser Engraving: MM-7's now have a laser engraved serial number and logo.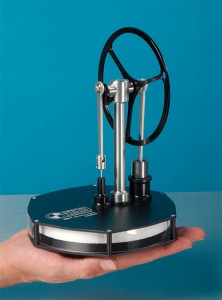 Specifications:
Height: 8″ (20.3 cm.)
Diameter Base: 6.5″ (16.5 cm.)
Diameter Flywheel: 4.7″ (12 cm)
Weight: 1 lb. 2 oz. (500 g.)
Temperature differential required: 7.2°F (4°C).
Precision Ball Bearings: 4.
Piston Material: Graphite.
Power Cylinder Material: Borosilicate Glass.
Flywheel Material: Powder Coated Steel.
Metal Parts: Anodized Aluminum and Steel.
Video clip of MM-7 running on a computer monitor. (499 K)
Video clip of MM-7 running on a warm hand. (589 K)
Rotational Speed: Approximately 90 rpm (speed depends on temperature differential, barometric pressure, and other factors) When running on your warm hand, the engine will run faster in cold rooms, slower in warm rooms, and not at all in very hot rooms.
Maintenance:
None. Internal components are sealed for countless hours of maintenance-free operation. You can safely place this engine on a low-temperature heat source and let it run for weeks, months or perhaps even years. Make sure to protect the engine from continuous exposure to sunshine or the anodizing will fade.
Warranty: One-year parts and labor.
This is such an elegant engine that you may want to display it on your desk. One of our customers recommended buying an 8″x12″ glass dome. This site sells glass domes.
A very fascinating little engine!
I ordered the MM-7 and the book by Mr. Van Arsdell. A day and a half after I got them, I took a friend of mine who is quite a tinkerer to lunch. My friend became so fascinated with the engine that I gave it to him! My friend keeps thanking me for it. My advice to potential customers is, "If you want to keep your engine, don't show it to your friends!" I'm saving my pennies so I can buy another one. Irvin Rushall, Scottsbluff, NE
A Wonderful Device
Hello, Just wanted to let you know how much I'm enjoying my MM-7! It is a precise and well built piece of gear. The workmanship and machining, etc., is top notch, well worth the price! I hope to see more of these devices being used throughout the world. We could sure use such a non polluting, clean & waste-free type of mechanical power these days. Thank you so much for producing such a wonderful piece of craftsmanship! Keep up the great work! Sincerely, Steve T. Cole (Crestline, CA)
Your beautiful engine has found a place in my heart.
This engine's silent operation and beautiful form is beautiful and inspiring. Just last Friday, I brought it [the MM-7] in to show the 7th. & 8th. graders at my son's private Christian school. This class and I had a great time experimenting with the engine and discussing it. I intend to continue to display it and demonstrate its functionality to anyone and everyone who is interested. I keep it under a glass dome on top of my entertainment center. --Elizabeth Krause (Hainesville, IL)
Works on a difference of 3° Celsius!
Your engine works fairly well till a temperature difference of 3 Celsius. I bought the engine for the Institut Universitaire de Technologie in Marseille. In order to reproduce the exact movement of the piston on a computer screen, we fixed a transparent bar code stripe -coming from a printer- on a moving part of the machine. Jean Paul Bernier, France
Absolutely and amazingly right!
I have received your MM-7 model a couple of weeks ago. The packaging was very clever and your engine is going absolutely and amazingly right. Best of All, Jean-Yves Hervouet, France
Little Miracle
I have bought Stirling Engine in December 2008. After that, always when we have quest's, I show them this little miracle. It's just so great. And most interesting, that it still works, after 5 years. My son's started to get interested of physics after seeing an engine with no fuel. From Finland Europe
What a beautiful machine!
My MM-7 Stirling Engine arrived today in perfect condition. What a beautiful machine! It works flawlessly and is spinning away happily on top of my PC. Thanks for the great service and wonderful product. John Paton, Dublin, OH
Closest thing to magic!
I took the MM-7 to breakfast today. I thought everyone would say, "So what?" To my surprise everyone was COMPLETELY dazzled! It is the closest thing to magic. Thank You! Bryant Simko, Rocky River, OH
Praise for engine's high precision
Excerpt from an email: As I write to you, the MM-7 is working away silently on top of my PC monitor. American Stirling Company can be justifiably proud of producing such a high precision example of applied mechanical engineering. Dr Kevin Dean The Petroleum Institute Physics Department Abu Dhabi, UAE
Amazed!
The other engineers were amazed that the MM-7 operated right out of the box. I needed to repackage it before they started to take it apart. I gave each of them one of the [Eco power] kits to amuse them and keep mine safe. Thank you again.-- J. Lathrop, San Francisco, CA