Science Teachers
 
Professors at the Air Force Academy, the Naval Academy and MIT have purchased our engines, and science teachers from small schools have also purchased our engines. All of them know that our engines are a great way to explain how gasses expand and contract and how heat engines work.
Our Best Classroom Demo

If you are looking for a classroom demonstration engine, where you explain how the engine works and perhaps let the students see it and touch it, the MM-7 heat of your hand engine is your best choice.
Students will be amazed when they see you run this engine on the heat from your warm hand. They will be even more amazed when you run the engine on a few ice chips or some ice cream.
Have Your Class Build a Stirling Engine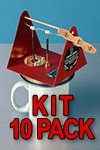 We offer a 10 pack of MM-5 engines. The Naval Academy once had an entire class build one of these kits. Other schools have had similar successful classes where every student built one of our Stirling engine kits.

 
Or Build an Eco Power Stirling Engine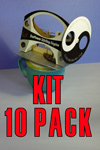 We also offer a 10 pack of Eco Power engines. Prices for both of these 10 packs are significantly discounted. The MM-5 kits are longer lasting, faster running and somewhat easier to build, while the Eco Power engines are less expensive, less long lasting, and somewhat harder to get running.
We highly recommend that you buy one or two engines and build them with your lab assistants before you order these engines for your class.
Can You Say Stirling Engine in German?
 
Much of the world's scientific literature is published in languages like German, Russian or French and never translated to English. If your students can't read a scientific article in the original language they are at a serious disadvantage.
Read this review of Pimsleur to learn about a company that can easily teach scientific vocabulary in a new language.