Assembling your Coffee Cup Stirling Engine Kit
What You Will Need to Build the MM-5 Kit Engine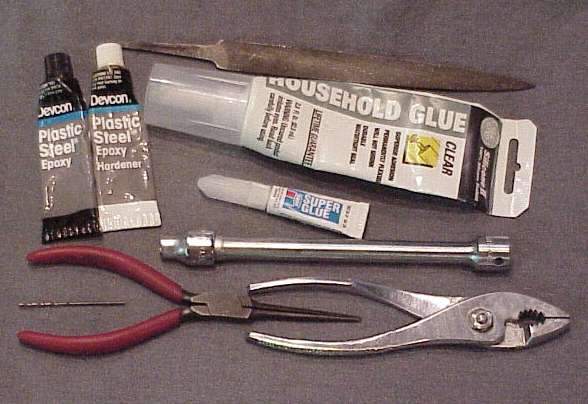 This picture shows a selection of tools that you will find handy while building your MM-5 kit Stirling engine.
You will need:
1. An adhesive such as epoxy or silicone. To get the prettiest glue joints at the top and the bottom of the Cylinder Ring, the best adhesive to use is a good clear 30 minute epoxy such as Devcon 2 Ton Clear, however the silicone adhesives work well too. You may want to read through these instructions first to get a better feel for which would be right for you.

2. Perfectionists will want to use a flat file such as the one shown to de-burr the displacer rod before assembly.
3. You will need some superglue. This instant adhesive is used several places in the engine. Buy the cheapest tube you can find.
4. A six inch extension (15.24 cm) is quite handy, although you could get by without it if you had a good set of pliers. A 5/16 in. socket (8 mm) also is needed.
5. Pliers. You will need a set of needle nose pliers. Needle nose Vise Grip brand locking pliers work the absolute best.
6. Drill bit. Most builders will want to have a 1/16 in., 1.5 mm, or # 52 drill bit handy to ream out the bearings.